How much surplus do you have in your operating budget?
What's a DDoS Gap? A DDoS Gap occurs whenever DDoS traffic bypasses a company's DDoS mitigation defenses to penetrate the target network. DDoS gaps are a...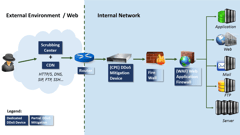 Unlike the thousands (if not hundreds of thousands of cyberattacks) hitting your system daily, DDoS attacks are few in comparison. Therefore, when a DDoS...